Crochet Modern Granny Blanket
Crochet Modern Granny Blanket in Peach and Gray that can also be used as a bed rail, which can help in decorating the room. Elegant and discreet, this work is simple and easy to do, it is worth investing in the beautiful stitch used to make this piece. Perfect for the coldest days it goes when we are watching that beautiful movie on the couch and in bed. Comfortable and beautiful it's very easy to do too. Crochet is very useful for decorative pieces that complete the look of the house with comfort, leaving everything very elegant.
The crochet blanket has been used more and more and is already part of the decoration of many homes today that love this type of work. Use your creativity and make beautiful pillows to match the blanket and add a new touch to your decor that you are sure to love. With a beautiful point that gives the beauty of the piece and that has a very delicate and perfect final result to make the environment very cozy.
With a beautiful color, it is a perfect piece to decorate the environment as it has neutral colors that can be changed according to your wishes. Comfortable and beautiful it is very easy to do which helps a lot.
   Modern Double Crochet V-Stitch Blanket
The blanket suggested here has beautiful colors, but they are just a suggestion, after all, the choice of colors is up to you and according to your decor to make the environment very cozy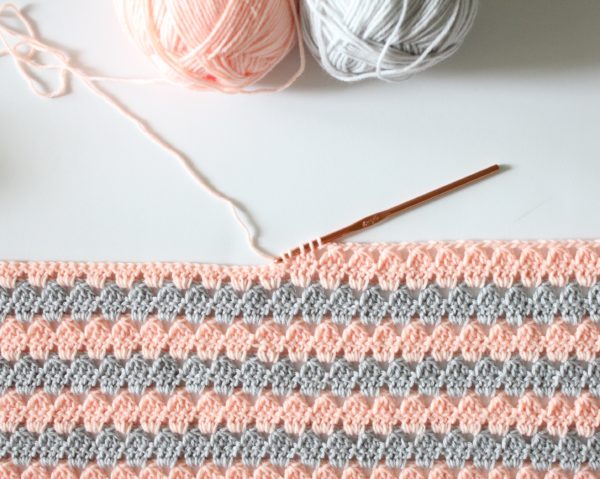 See Also:
➽ Crochet Spikilet Gown
➽ Crochet Top
➽ Summer Crochet Blouse
Crochet Modern Granny Blanket
Pattern/Images/Tutorial: Daisy Farm Crafts
This modern crochet granny blanket is a series of triangles nestled in between each other which gives the blanket a modern feel. This blanket works up fast and is fun to memorize and pick up easily where you left off.
MATERIALS
2 each of Baby Bee Sweet Delight in Bashful and Flannel)
Size H, 5.00mm hook
Tapestry Needle
Scissors
CH a multiple of 3, then add 1 (3+ 1 is the pattern repeat) to however wide you'd like the blanket. I usually do somewhere between 32 and 36 inches wide for a baby blanket.
ROW 1: 1 DC into 4th CH from hook, *SK next 2 CHs, 3 DC into next CH, repeat * ending with 2 DCinto last CH, turn.
ROW 2: CH 3, 1 DC into next DC, (CH 3 counts as first DC), *CH 2, DC3TOG, repeat * ending with CH 2, DC into next DC, DC into top of turning chain, pulling through with new color just before you finish the DC.
NEW COLOR
ROW 3: CH 3, 3 DC in the CH 2 space between the last DC3TOG and 2 DC of the previous row, *3 DC into the next CH 2 space, repeat * ending with 1 DC in top of the turning chain.
ROW 4: CH 4, (counts as 1 DC and 1 CH), *DC3TOG in top of each 3 DC of previous row, CH 2, repeat * across and end with CH 1, DC into top of CH 3 turning chain, pulling through with new color.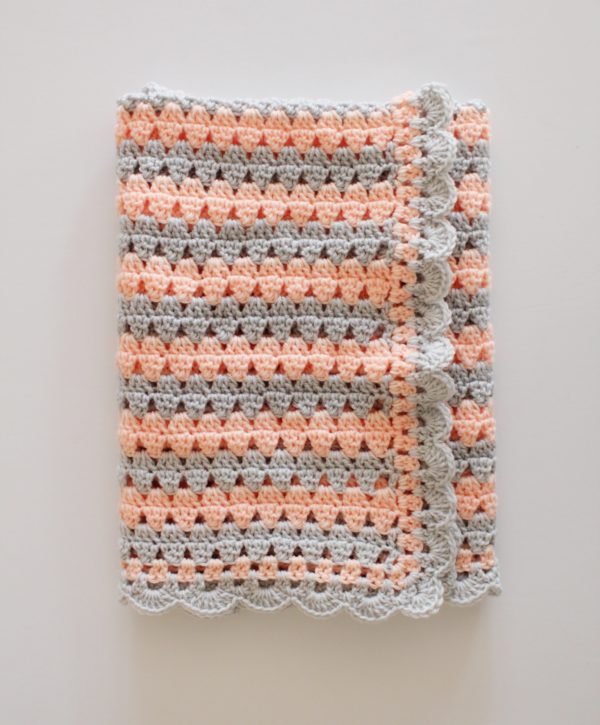 Our Team's Opinion About This Pattern
Crochet Modern Granny Blanket, a beautiful blanket that'll surely change the way your place looks, I'm sure the amazing design of this piece will give your house a beautiful new touch that will leave everybody impressed. This is a piece that is always needed, that's why it is so famous and required. This piece will surely make your customers want one like it, which will help you in sales!!
Want to craft this amazing Crochet Modern Granny Blanket? Then set aside all your material and tools before starting your piece so that you already have everything close at hand, this way it'll be easy to carry out this project, follow the tutorial carefully, make your piece while following the tutorial and I' m sure that you will be able to make this amazing work easily.